CHRIS BROWN Robs A Woman on South Beach Then Calls her a B*tch!
(chris brown sketchabove by chibi-chu)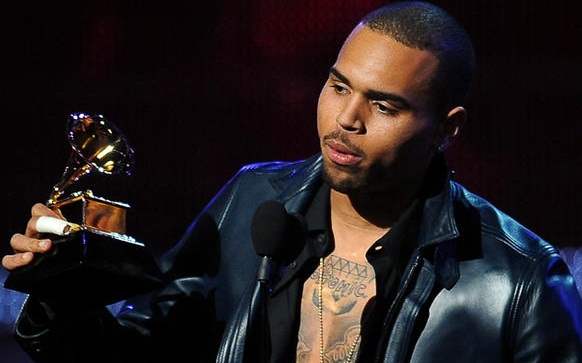 Chris Brown receiving his Grammy Feb 12th. AP/Getty Images
Chris Brown snatched a fan's phone after she took a photo of him outside the South Beach Club, Cameo, warning her that he didn't want her posting his picture on a website. Chris Brown and rapper Tyga, left the club early this morning through a side door, where the victim, Christal Spann, and her friends, approached him. According to Miami Beach Police and NBC Miami News, Spann took a photo with her $500 white iPhone 4S while Brown was sitting in his car. He got pissed, snatched the phone out of her hand, then drove off with it in a black Bentley.
Before Brown drove off he said, "Bitch, you ain't going to put that on no website," Spann told police (who responded at 4:43 am). Then he drove west on Espanola Way, and north on Washington Avenue, police said.
The incident is now under investigation. Police listed the offense as a "robbery by sudden snatching." Tyga wasn't implicated and Police believe that Brown fled or is no longer in Miami. The state attorney's office won't comment right now. And Chris Brown can not be reached for comment.
Story is currently developing. Follow me on Twitter.com/lisafordblog