Thursday 10 September, 2015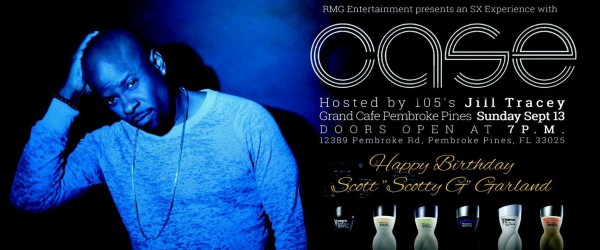 CASE is a dope R&B Platinum-winning R&B Star who will be gracing our presence, SUNDAY SEPTEMBER 13TH, at the GRAND CAFE located at 12389 Pembroke Rd. Pembroke Pines, Fl. 33025. Now that I threw the plug in, I just want to say that Case's "Missing You" is my FAVORITE R&B song OF ALL TIME. Thanks to CASE, and authentic Artists like him, I have not given up on R&B which seems as if it turned in the Autotuned high-trebled, watered-down bubble-gum "love" songs.
But if you want to experience a REAL R&B show in a glamorous sultry atmosphere, then come join us at the Grand Cafe Sept. 13th. CASE will be there performing his new single, "Shook Up" off of his upcoming album cleverly titled, "HEAVEN'S DOOR". The event is hosted by Jill Tracey from Hot 105.1 FM and presented by RMG Entertainment.