Reebok drops RICK ROSS Over Controversial U.O.E.N.O Lyrics (Protest PHOTOS) *UPDATED* Rick Ross Releases Official Apology
Above artwork of Rick Ross by atdoodle. Follow me on Twitter @LISAFORDBLOG
*UPDATE* After this article was published, RICK ROSS released an official apology today:
"Before I am an artist, I am a father, a son, and a brother to some of the most cherished women in the world," reads his statement. "So for me to suggest in any way that harm and violation be brought to a woman is one of my biggest mistakes and regrets."

"As an artist, one of the most liberating things is being able to paint pictures with my words," the statement continues. "But with that comes a great responsibility. And most recently, my choice of words was not only offensive, it does not reflect my true heart. And for this, I apologize. To every woman that has felt the sting of abuse, I apologize.

"I recognize that as an artist I have a voice and with that, the power of influence," it goes on. "To the young men who listen to my music, please know that using a substance to rob a woman of her right to make a choice is not only a crime, it's wrong and I do not encourage it. To my fans, I also apologize if I have disappointed you. I can only hope that this sparks a healthy dialogue and that I can contribute to it." He signed the statement "William Roberts (a.k.a 'Rick Ross')." (E Online)
"Put Molly all in her Champagne/ She ain't even know it/ I took her home and I enjoyed that/ She ain't even know it," RICK ROSS raps on the track.
LA Times, "Molly is the powder or crystal form of pure MDMA, a substance typically found in Ecstasy. The drug, which has also been referenced in lyrics by Kanye West, Lil Wayne and 2 Chainz, is known for its ability to reduce inhibitions and provide feelings of euphoria, especially when the user is touched by another person."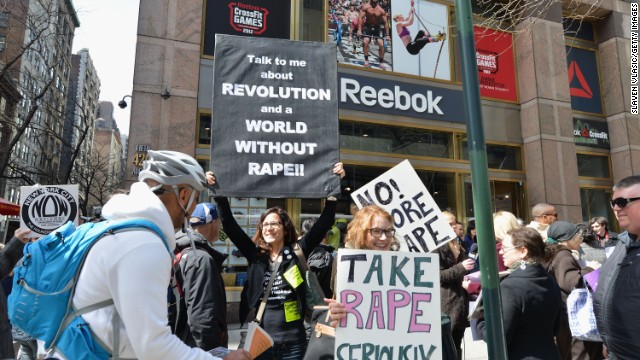 CNN – A protest against Reebok for not firing rapper Rick Ross over sexist and violent lyrics outside the Reebok Flagship Store In New York on April 4, 2013.
Reebok's act of dropping Rick Ross is partly in response to the women's activist group UltraViolet, who protested outside a Reebok store in Manhattan and delivered a petition demanding the sportswear manufacturer break with Ross on April 4th.
(Slaven Vlasic / Getty Images / April 4, 2013)
UltraViolet started a petition against Reebok that garnered over 100,000 signatures.
"Some radio stations dropped the record from their playlists, a parents' watchdog protested and women's rights advocates have posted videos on YouTube objecting to the song. Ross, who has been a spokesperson for the brand since 2012, brushed off the controversy as a simple "misunderstanding" and apologized — not for the actual lyrics, but for what had been "interpreted as rape."
Check out the song below:
"Rocko has quickly remixed the hit song and replaced the lyric with a Wiz Khalifa
verse
. This is the original single with Rozay's verse:"
Sources: