THE PITCHBLACK SQUAD'S – 'Life Is A Struggle" Mixtape! {Music Review}
Tuesday 20 March, 2012
THE PITCHBLACK SQUAD'S – 'Life Is A Struggle" Mixtape! {Music Review} DOWNLOAD





Pitch Black Entertainment presents the Life Is A Struggle mixtape, a solid, diverse collection featuring a roster of artists that will have an enviable run for many years in the industry. Especially if the founding members, Stanley Bois and Johnny Bookert continue to grind as hard as they do by keeping their finger on the pulse and delivering the hits that drives the force behind their insane success (established independently).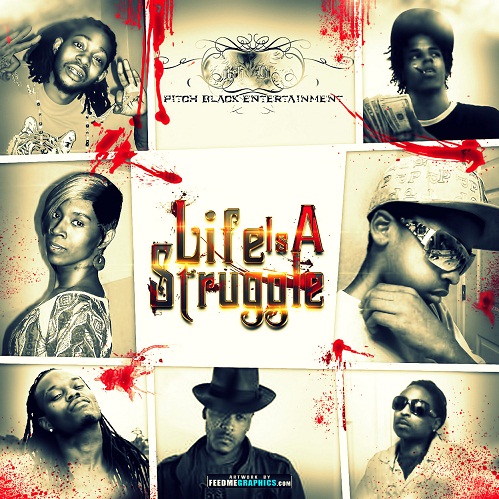 The PitchBlack Squad are club-banger Kings, signed to a label developing a group of young talent from all areas of the Hip Hop nation. They all have that deep underground sound with rooted from their hometowns, woven into a powerful blend. Watts yields out of the East from New Jersey. Dre Da King represents South Carolina.  Kidd is from the dirty South, and all the grimy breakout stars at Pitch Black Entertainment are threatening to establish a foothold on U.S. soil with their fast-rapped strains of gritty music.
The PitchBlack Squad's high-octane music best reflect their charisma and points them to a bright future… one that will develop as they continue to refine themselves and evolve in parallelism to the rap industry. The sophomores in the camp will open the doors for the freshmen and the PitchBlack Squad's impressive trajectory will soon to earn them regular rotation on air and mass appeal. What they sacrifice in innovation, they make up for it with energy and thirst. Their street-corner tales and down-to-earth relatable lyrical content brings a fresh outlook to Hip Hop.
The rhymes spilling out of the Life Is A Struggle mixtape are colorful and wildly charismatic. When you listen, you can tell that WATTS, DRE DA KING, KIDD, BABY JERSEY, UNKUT (JERMEKO & ONE WILL), K-SMOOTH, BUBBA MANE, and RELICK just love what they do. They rap about making money, women and liquor as much as the next rapper, but at the end of the day you can tell these are real people who have worked tirelessly to achieve their goals and make an impact in the music industry.
One of my favorite songs is Lack At by Kidd. It puts me in the mood when I'm just sitting back and reflecting on life. Pitch Black Entertainment stated Life Is A Struggle was created to help you get through the everyday hustle. Their motto throughout the album is Goonies Never Die.  So true. Artists have to endure years of struggle before they even make it in the booth, and once their dream is fully realized, they are able to get behind the mic and unleash years of pent-up frustration. With this project, The PitchBlack Squad was free to reign, and they took full advantage of their freedom to create.
"LACK AT" BY KIDD of The PitchBlack Squad

That everyday struggle concept is also demonstrated with the PITCHBLACKSQUAD-(WATTS, DRE DA KING, KIDD) hit single, "We Fight -Red Tails." The first few seconds of the track serves as a motivational chant, one that gets you going, and gets the blood pumping through your veins. No wonder they've already received radio airplay on The New X102.3, Power 96.5, 99.1 Jamz, and 91.1fm, Miami. Download Life Is A Struggle HERE.


PITCHBLACKSQUAD-(WATTS, DRE DA KING, KIDD)We Fight . Red Tail
To hear more music, go to www.pitchblackworld.com , www.reverbnation.com/pitchblacksquad and download the PitchBlack Entertainment  app http://pitchblackentertainment.mobapp.at/
Follow me on Twitter.com/lisafordblog