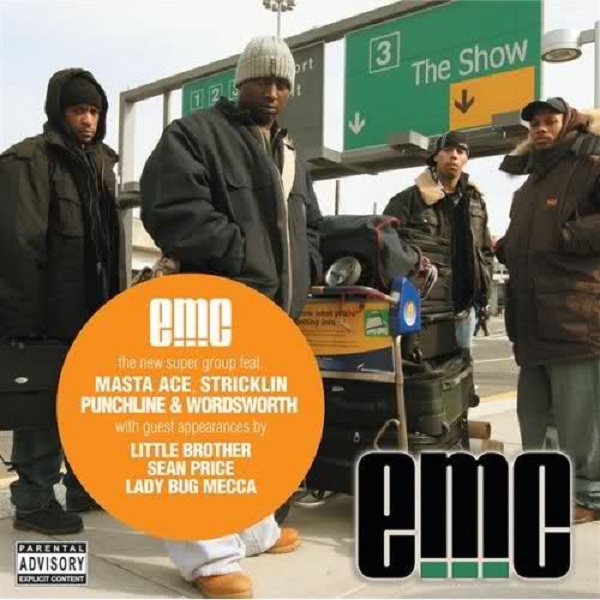 eMC – "The Grudge" off the album 'The Show' {Dope HIP HOP}
 One of the most underappreciated hip-hop albums I know of. A must have for all hip-hop heads. HiphopFightsBack
The Show is all about humanity, it's about regrets, it's about the concept of small victories resting uncomfortably next to failures. It's also the first great rap record of 2008. Taking a page from the day-in-the-life structure of eMC member, Masta Ace's brilliant, A Long Hot Summer and Disposable Arts, The Show's premise revolves around a day in the life of the kinda ' sorta ' super-group consisting of ex-Lyricist Lounge staples Punchline AND Wordsworth, Ace and his protege, Stricklin. From getting picked up at the airport, to lounging in the hotel room, to handling promo at the radio station, to the show itself, the album's format is basic and were this merely a play-by-numbers expose of the lives of underground rappers, it'd be hard to imagine anything more dull.
But The Show is anything but boring. Granted, those looking for ephemeral flash and outrageous braggadocio should look elsewhere. This record is one of the most emotionally resonant rap records made in the decade, with each MC well-aware of his personal and career failings. Yet rather than gratingly complain or make reductive "too smart for the masses" arguments, the members of eMC possess a sort of fatalistic resignation gained from the vicissitudes of existence. The Show is a sober-eyed document cataloging the the struggles inherent in trying to eke out a living in a failing industry, one punch-drunk on youth and danger, things that none of the members of the group possess.
You'll have to forgive the cliche, but The Show is grown-man rap. The members of eMC are imbued with a sort of wisdom all too rare in contemporary hip-hop. I imagine if I heard this record at 15, I'd have liked it well-enough. The beats are supplied by an underground all-star squad of 9th Wonder, Marco Polo, and Nicolay, the rhymes come fast and funny, and the group coax welcome guest appearances from Little Brother and Sean Price. Yet this is undeniably an artistically mature record, one obsessed with the concept of change and blest with the sort of sadness that only can only stem from a recognition of life's fragility. Penning poignant songs on everything from the deaths of their mothers and the difficulties of sustaining relationships, underneath everything lies an unspoken acknowledgment that life might not always deliver on the lofty promises once hinted at.
As the epigraph alludes, The Show is about the idea of learning to live with regrets. Were eMC to dwell on their respective career failings, The Show would be just that. And to be fair, these rappers would be partially validated. Masta Ace has five solo albums under his belt, all of them ranging from great to very good and still, he's practically anonymous other than among 12 bloggers on the Internet. Punchline and Wordsworth were once tabbed to be the next Rawkus big things but lacking the charisma of a Mos or a Kweli found themselves relegated to trivia questions revolving around that old MTV Lyricist Lounge show. As for Stricklin, I've never even heard of the guy. But on The Show, the group delivered one of the most intellectually honest, engaging and eminently listenable artistic triumph. Learning how to live with regrets has not only allowed these guys to survive, it's also enabled them to thrive. Simbirsk