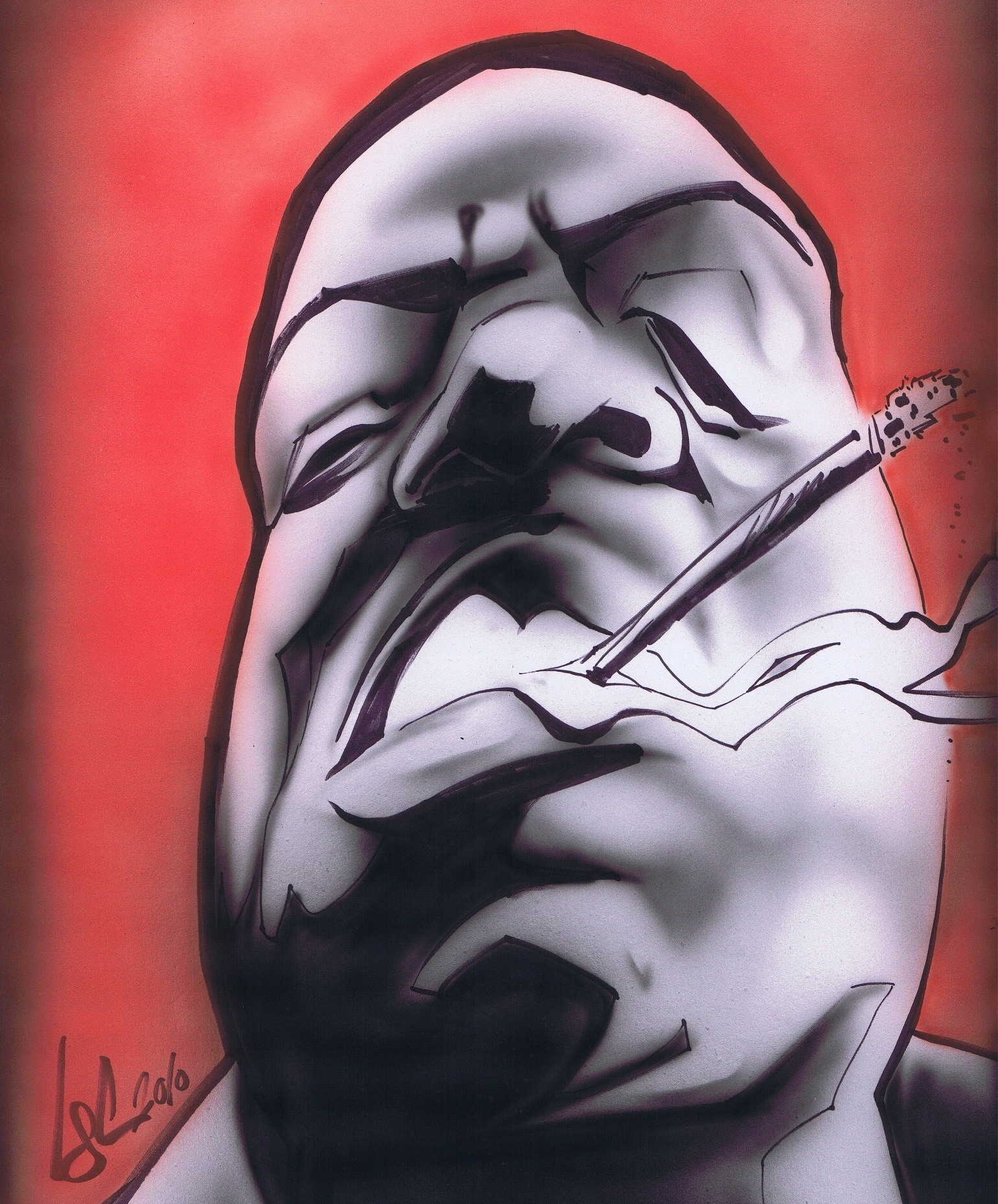 BIGGIE At The Hit Factory! {Rare FOOTAGE}
(biggie artwork by l.s.c.)





The below video is Biggie at the Hit Factory Studio. I originally reported that Biggie was at the "Hit Factory in Miami' when this footage was recorded. But my facebook friend and music producer, Eface Dakilla, quickly corrected me.
Eface Dakilla stated, "there is no way thats in miami, the hit factory in miami was called Criteria until 1999 when the Hit Factory purchased it, and biggie had already been killed 2 years before that, that was hit factory new york, research mami"
…I stand corrected. I'm all about my city of Miami, taking all the credit for everything lol. After the jump, is the latest on Biggie's murder investigation. Alot of folks in the Hip Hop Nation believe that Suge Knight holds the answers to this 15-year long mystery. Hopefully the full truth behind Biggie's death will soon be fully realized….


Will Biggie's murder case (and Pac's) ever be solved? Greg Kading, a retired L.A.P.D. detective, who was in charge of the special task force that investigated Biggie's murder states, "Both shooters are dead…That's all the justice that these cases will see." Kading's statement comes in lieu of a book he's publishing titled, Murder Rap: The Untold Story of the Biggie Smalls & Tupac Shakur Murder Investigations.  
More Kading's statements below….
On Biggie's Murder

"Suge Knight was absolutely enraged. Not only had he been shot at, but his friend [Tupac Shakur] was killed next to him in the car. Suge always knew who was responsible. He looked directly into the eyes of Keefe D, who was in the shooter's car. Keefe D was a member of the Southside Crips and a well known person toSuge. That explains why the next day this huge war broke out in Compton between Suge Knight's gang entourage and Keefe D's gang entourage.

"Suge Knight ended up going to jail on a probation violation, stemming from the beating of Orlando Anderson [Ed. Note—Anderson is Keefe D's nephew, also a Southside Crip who allegedly shot Tupac.] in the MGM Grand hotel. While Suge was in jail, he conspired with his girlfriend. Suge gave her the directive to get Poochie.

Poochie lay in wait outside the Petersen Automotive Museum. As soon as he became aware of where Biggie was sitting in his car, he drove up, and he shot him.

"Wardell 'Poochie' Fouse was paid to kill Biggie. At the time, he was a 36-year old member of the Mob Piru Bloods. According to several Death Row insiders and FBI informants, Poochie was a down-for-the-cause, hardcore gang member. Confidential sources from the Death Row entourage, the Mob Pirus, and [Suge's girlfriend, identified in Kading's book by the alias "Theresa Swann"], saidPoochie had done shootings for Suge in the past. Reggie Wright Jr.—who was the head of Death Row security—saidSuge and Poochie's relationship was different than other members of the gang. They had a very secretive and exclusive relationship.

"[Suge's girlfriend] and Poochie agreed to terms. He received two payments, one for $9000 and one for $4000.Poochie lay in wait outside the Petersen Automotive Museum. As soon as he became aware of where Biggie was sitting in his car, he drove up and he shot him." (Complex)
On Whether The Cases Will Ever Be Solved

"It comes down to how you define solved. Both law enforcement agencies—the Las Vegas Police Department and the L.A.P.D.—have drawn the conclusions that Tupac was killed by Orlando Anderson and Biggie Smalls was killed by Wardell 'Poochie' Fouse.

"Those are the facts within law enforcement. They're considered solved internally, but the public's definition of solved is different. They haven't gone through the judicial process and nobody has been prosecuted.

"Both shooters are dead. Orlando Anderson was killed outside a Compton record shop in May 1998. Poochiedied in July 2003 as a result of multiple gunshot wounds. He was shot in the back while riding his motorcycle in Compton. He was supposedly killed as a result of in-fighting between the Mob Pirus—Suge's Blood associates—and another Blood gang known as the Fruit Town Pirus.

Both shooters are dead…That's all the justice that these cases will see.

"That's all the justice that these cases will see. The co-conspirators are never going to be prosecuted. Unfortunately, the cases are so complicated and convoluted. These will never see criminal prosecution.

"The co-conspirators are absolutely known and I say that with conviction. I worked directly on these cases for years and know exactly where they stand within law enforcement. They would be very problematic prosecutions because of all of the convoluted peripheral issues that were raised during the investigation.

"The D.A. in Los Angeles knows that this is an extremely difficult situation to try and prosecute. Here's the problem; You've got [Suge's girlfriend] confessing, and then, there was a bad move by law enforcement to giveher immunity. The shooter's dead, the female confessor has immunity, so you just have Suge Knight.

"The D.A.'s office in Los Angeles has a policy: They don't prosecute murders based on the testimony of one witness, which is now just the girlfriend. So the D.A.'s realizing, 'OK, what are we going to do? We're going to prosecute Suge Knight for solicitation of murder and the whole thing's based on the testimony of his girlfriend? We can bring in all this circumstantial stuff and we can bring in the history between these crews, but ultimately, a good defense attorney's going to say, Hey isn't this all just an elaborate cover-up, because the L.A.P.D. actually murdered Biggie?' The defense is going to try and turn the thing back around. So the D.A. realizes that there's not really a potential for a successful prosecution."  (Complex)
CLICK HERE TO READ MORE ABOUT THE UPDATE ON BIGGIE MURDER INVESTIGATION
Follow me on Twitter.com/lisafordblog